Rating: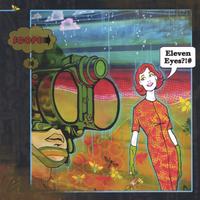 Eleven Eyes is unlike any jazz i've ever heard before! I really didn't know what to expect when I headed over to Terrapin Station along Main St. on that Thursday night but I got there promptly at 9pm and waited for about an hour while they were fine tuning their instruments. Was it worth the wait?

...A resounding YES! The soundcheck alone was awesome! I'm at a loss on how to categorize this kind of Jazz which featured a turntable, trumpet solos and even a saxophone plugged into effects!

The lead singer even had an apple laptop that would spit out audio samples, loops even drum beats that they would incorporate into the music. Plus, the best thing about it was that everything seemed so improv! I'm sure there is structure in all the musical chaos but I couldn't discern any verse-chorus-refrain structure in the songs.

They sound a bit like Galactic (whose Crazy Horse Mongoose I discovered because of NU 107's now-defunct Zach and Joey in the morning) I had a great time a couple of nights before at Pengilly's with the Frim Fram Four but Eleven Eyes is a different beast.

Unfortunately, the house was far from packed and I could count using one hand the tables that were occupied.

I couldn't get enough of their music so I bought their latest album, "Scope". I was a bit disappointed about it though, I thought it had too much "electronica" in it. They were definitely better live.

Five pawikans for Eleven Eyes-- bonus points for them because of an old man who got so moved by the music that he stood up, removed his coat and started dancing all alone on the dance floor!